Buy all three and save 374 AED Google nest mini 2nd gen, Google nest hub 2nd gen & Google chromecast 4k
Product Description
Google nest mini 2nd gen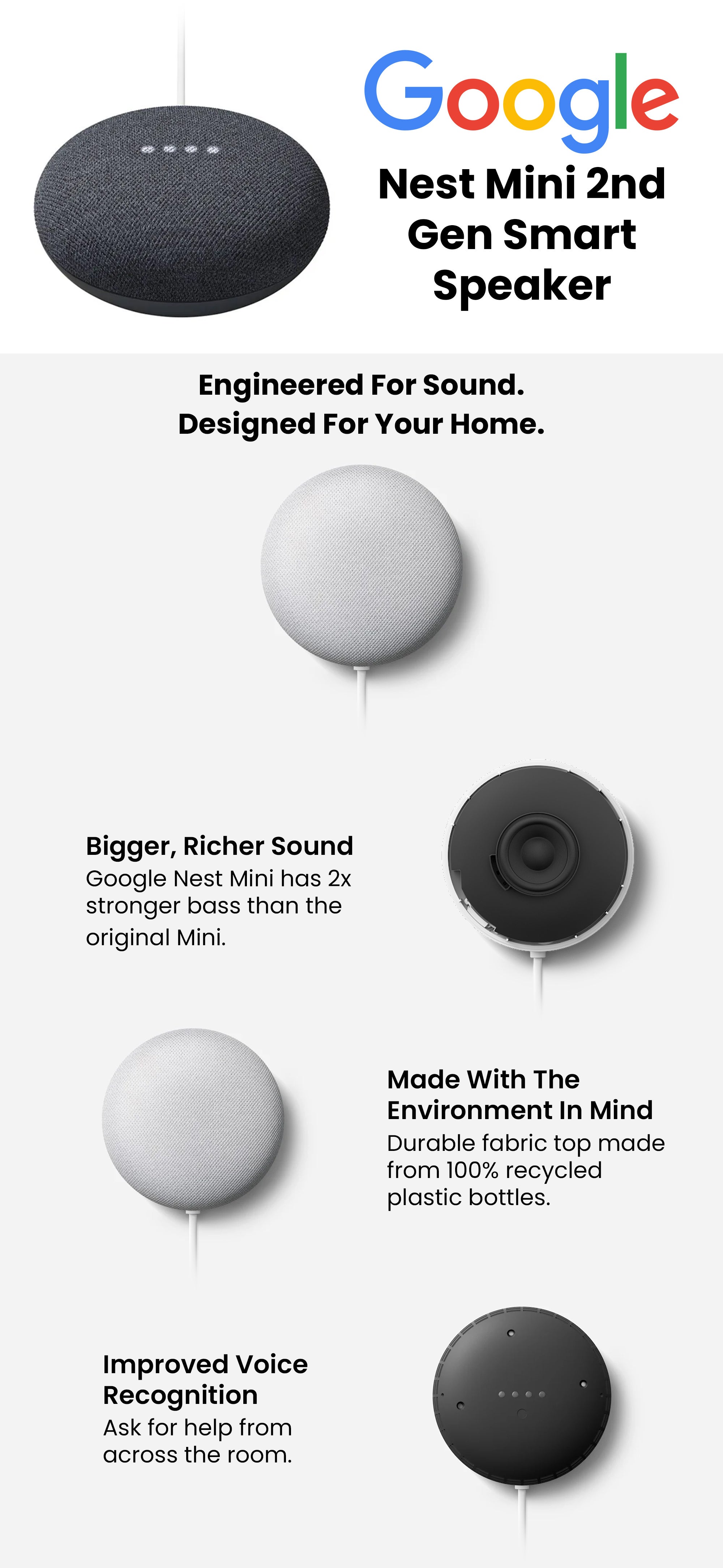 Highlights
Comes with long distance bass sound
Built in google assistant with 360-degree sound with 40 mm driver
High-performance ML hardware engine with quad-core 64-bit ARM CPU 1.4 GHz
Made of durable fabric top made from 100% recycled plastic bottles
Comes with an operating power of 15 watts
From getting weather updates and the news to setting timers and alarms just ask and get the best of google
Voice match get personalized schedules commute times reminders and more thanks to the voice match feature
Overview
Right from when you wake up till when you go to bed, the google nest mini acts as your personal assistant keeping you informed and entertained throughout the day. apart from providing you with your personalised schedule and reminders and giving weather updates to letting you play your favourite songs on various streaming services, the nest mini is here to make your day better.smart speaker with the google assistant, in hindi too you can now control the 2nd generation nest mini with just your voice. all you have to do is say "ok google" to play songs, get weather updates, news, and almost anything, and all these in hindi too. apart from hearing your personalized schedule, commute, and reminders, you can also set timers and alarms, and control your compatible smart devices.better sound, all-around with 2x stronger bass than the google home mini, your music will sound better and richer.wall-mount ready the nest mini can be easily hung on the wall in your kitchen, bedroom, living room, or hallway. being easy to mount and easy to reach, it never gets in the way.stream music with your voice whether you want to play your favourite songs from youtube music, gaana, jiosaavn, or spotify, or stream music from your phone to nest mini, you just have to ask your google assistant.control your home with just your voice your voice is all you need to dim the lights, pause the tv, or turn on the ac as the nest mini is compatible with several popular smart devices such as lights, acs, and tvs from your favourite brands.the google assistant is always ready to help from getting weather updates, and the news to setting timers and alarms, just ask and get the best of google.voice match get personalized schedules, commute times, reminders, and more, thanks to the voice match feature.
Google nest hub 2nd gen
Highlights
Google Assistant Built-In
7″ WSVGA Touchscreen
Wi-Fi & Bluetooth Wireless Connectivity
Three Far-Field Microphones
The ultimate digital photo frame with google photos equipped with full range speaker with 1.7 in 43.5 mm driver and 3 far field microphones
Overview
Designed for your convenience and entertainment, this google nest hub 2nd gen is a smart choice. it comes with a 7-inch touchscreen that has 1024x600p resolution to give you sharp visuals. it has a 43.5 mm full-range speaker for exceptional sound quality and the 3 far-field microphones capture sound brilliantly. the built-in google assistant with voice match technology and ultrasound sensing makes it convenient to use. besides, it is compatible with both android and ios devices.google nest hub provides help at a glance in any room at home. get hands-free help from the google assistant.the ultimate digital photo frame with google photos, equipped with full-range speaker with 1.7 in (43.5 mm) driver and 3 far-field microphones.control your connected home: view and control connected devices from a single dashboard, works with compatible smart devices from popular brands.play videos from youtube and more: watch youtube and listen to music from youtube music, gaana and more.
Google chromecast 4k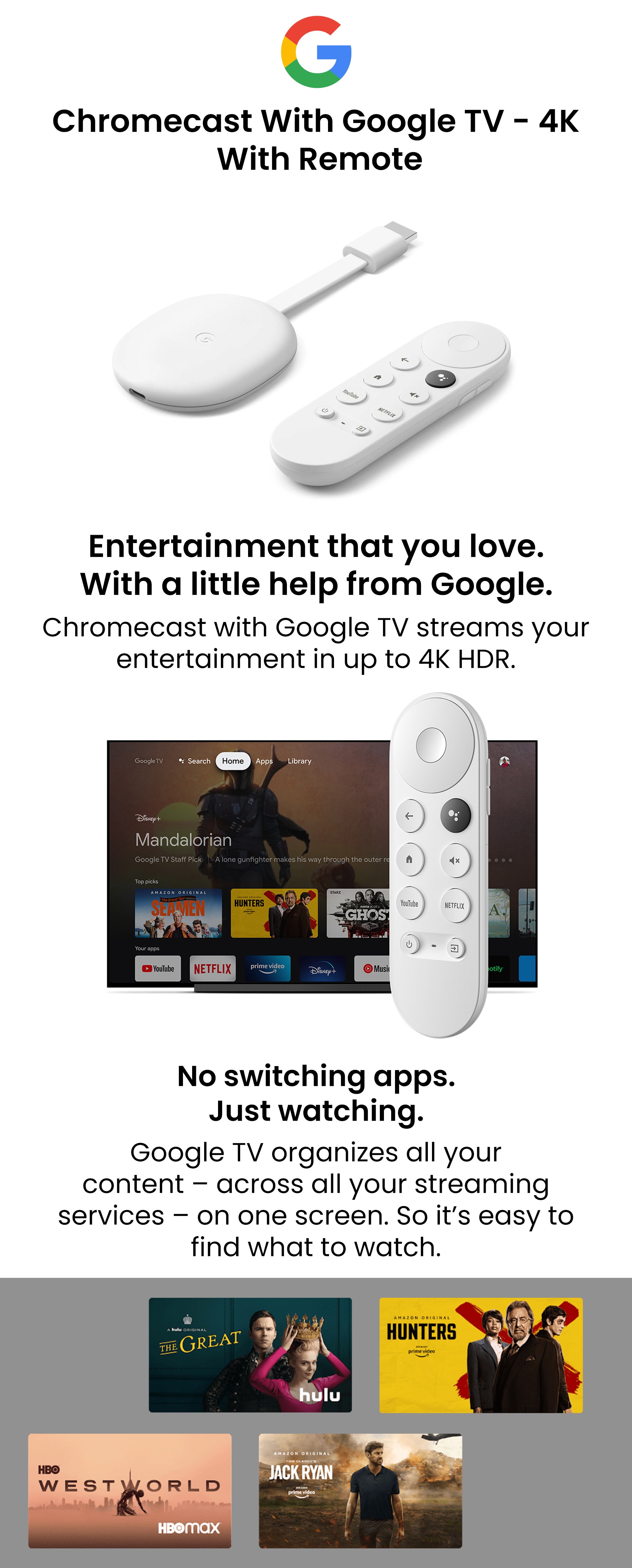 Highlights
Designed to support 4k uhd resolution of 3840 x 2160 pixels at 60hz to make visual sequences come alive right before your eyes
Hdr 10 plus with dolby vision hdr format enhances the black and white levels to highlight the colours in the darkest of visual sequences
Google tv organises your favourite tv shows movies and music content in a unified interface for easy access
Voice activated remote control allows you to access anything from the comfort of your couch
Plugs into the hdmi port and connects to a wi-fi network to offer easy installation
Expand your home entertainment without buying a new tv google chromecast lets you stream your favorites from your phone tablet or laptop no remote needed
Works with the apps you already know and love enjoy shows movies music games sports photos live tv and more from over 2000 streaming apps in up to 1080p
Overview
Google Chromecast was introduced in 2013 when smart TVs were a novelty. This tiny device was designed to wirelessly cast smartphone apps, including video streaming apps on to televisions. It quickly gave traditional TVs a range of smart skills rather inexpensively. The most recent versions, the Chromecast Ultra and the Chromecast 3rd-gen were announced in 2016 and 2018 respectively. These dongles had some design changes, but their features were very similar to the first-generation Chromecast. Google's new Chromecast in 2020, comes built with Google TV. The new device runs on a faster OS, has a spectrum of streaming services, and it also brings a voice assistant to your fingertips. Google has given the new Chromecast a fresh design. The new device is elongated, has more rounded edges, and it looks like a small pebble that connects to TVs using HDMI. The device comes with an USB Type-C port on its one end. Thankfully, Google bundles a Type-C cable, and an USB adaptor. The new Chromecast now comes in three different colours – Snow, Sunrise and Sky. The new device is also more environmentally friendly as Google says, it is manufactured from 49 per cent recycled plastics. The biggest improvement the new Chromecast offers over the predecessors is the inclusion of remote. This remote is powered by 2 AAA batteries, and it comes with a circular d-pad button on the top to make navigating through settings and content easier. There are other eight buttons which include, Back, Input, Home, Mute, Power and dedicated buttons for Netflix, YouTube and Google Assistant